You can purchase your EliteSingles Premium membership by credit card or PayPal.
>>> Please note: the subscription fees are taken in one lump sum! 
This means that if you purchase a 12-month subscription, the whole 12-month subscription fee will be debited in one lump sum, and not in monthly instalments.
log in to your account
select "Become a Premium member"
select the offer you wish to purchase
select "Continue"
1) Payment by Credit Card
You can purchase your subscription with Visa, MasterCard, American Express or Diners CLUB credit cards.
You will need a CCV number – this is a security code found on the back of your card. It usually contains three numbers. On the American Express card it is a four-number code on the front of the card. If your card has no CCV, you cannot use it to purchase a subscription online.
Just enter your details and click/tap the "Purchase" button.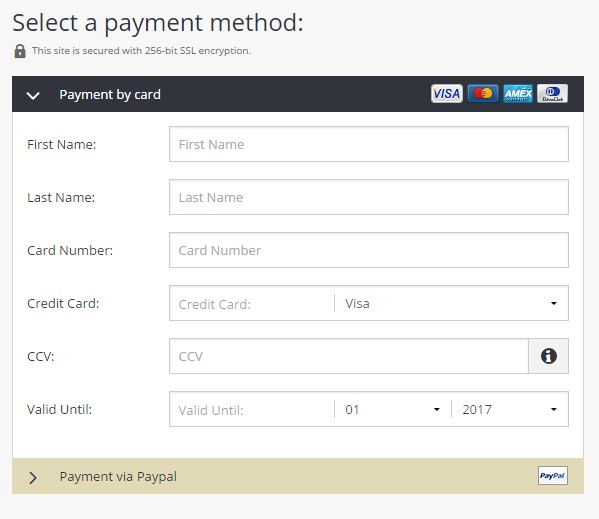 You will find a small lock icon throughout the whole payment process, which appears every time you are using a secured website. Another means of security verification is the URL bar. Here you will find an ""s"" behind ""http"" which indicates a completely secure connection.
>>> Hint: read the full payment page carefully for details on the full sum that will be debited.
2) Payment by PayPal
Select "Payment via PayPal" and click/tap on the "Continue" button.
You will then be redirected to the PayPal website. You will be asked to log into your personal PayPal account and to confirm the payment.