If a partner suggestion does not quite meet your expectations, you can remove the profile from your partner suggestion list at any time.
To do so:
visit the profile of the member you wish to delete
select "Delete Match"
A window will pop up in which you must confirm the deletion. Select "Delete" to confirm the deletion.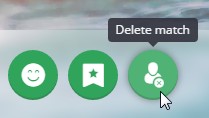 The deletion of a match cannot be reversed, nor can the profile be reinstated. Once this match has been deleted, you will not be able to contact them again and all your exchanged messages will be permanently deleted too.
Please note that the deletion of too many of your matches leads to a significant reduction in the partner suggestions you receive on a daily basis. In some extreme cases, it can even happen that no profiles are sent for a few days. We would therefore suggest a cautious use of this function.
Should you receive a match or a message that is suspicious or does not respect our Code of Conduct, you can find instructions on how to report a concern in the following article: How to report a concern.