To permanently delete your profile from EliteSingles, please log in to your account with your registration email address and password. 
1. Select the cogwheel ("Account"). On a mobile device, you will find this option in the menu.

2. Select "My Membership"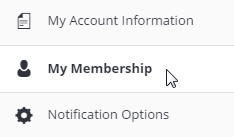 3. Scroll to the bottom of the screen. You will find a section which says "Information about my profile".
Click on the deletion link at the bottom of the screen where it says "To delete your profile, please click here".

4. Select your reason for deletion.
5. Enter your registered email address and password.
6. Confirm the deletion by selecting "Continue".
Your account will be completely and permanently deleted. All your matches and messages will be irretrievably lost and we will not be able to reinstate your profile.
>>> Information for Premium Members:
You will need to cancel your subscription before being able to delete your profile. As per our Terms and Conditions, we will not be able to refund the remainder of your subscription should you delete your account before your subscription has ended. For more information, please visit this article: How do I cancel my subscription?