Elitesingles uses a research-based, scientific matchmaking process in which we use an extensive personality test to find you truly compatible matches!
The personality test was created in close cooperation with psychologists and relationship experts. It is based on the Five Factor Model theory of personality traits, established on the psychological model developed by McCrae and Costa (1992).
The Five Factor model identifies five distinct personality traits: conscientiousness, agreeableness, openness, extraversion and introversion.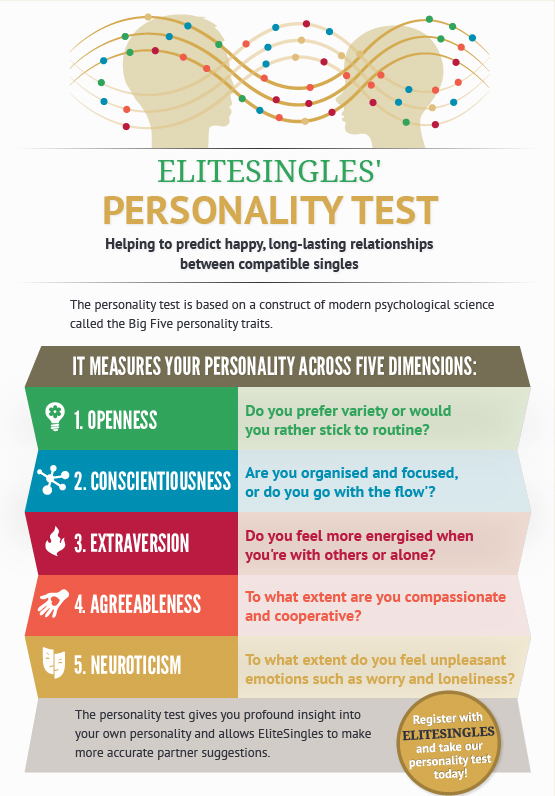 The test is divided into ten sections in which we ask you questions regarding your communication skills, personality traits, and your attitude towards relationships. In addition to the more personal aspect of the test, we also ask you to adjust your search criteria.
Your test results are collated and analysed. We then compare your results with those of all our members. The compatible matches are selected according to your search criteria.
Successful matchmaking relies on presenting your personality, your preferences and your expectations as fully as possible to other members. So, please take at least 45 minutes to complete it.
Do think about your responses, but answer as intuitively and honestly as possible in order to give the most genuine impression of yourself to others. By evaluating your intellectual attributes and personal characteristics, the completed test aims to ensure a deeper compatibility between you and your matches.
In sum, take your time! Make yourself comfortable, put on some music and try and be as honest as possible! By investing 45 minutes into the test, you will find yourself a perfect partner for a lifetime!