Our matchmaking process uses the results of your personality test combined with your search criteria to find you highly compatible matches.
Here are a few things you may need to check.
Is your matching status active?
You can find this by navigating to "My Account" (the cogwheel) and "My Membership".
You will find the setting under "Matching Options".
Select the first option "I want to receive partner suggestions." and "Save". Once the change is effective, you will see the following: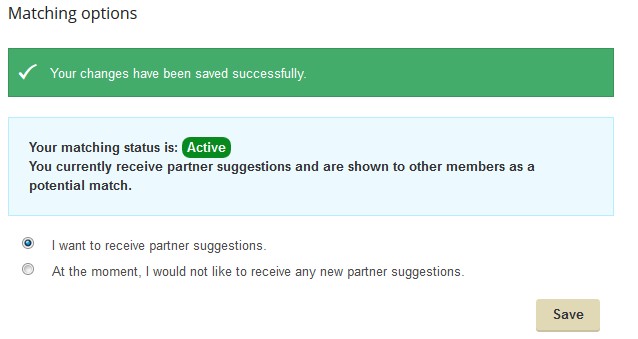 Is your search maybe too narrow?
If you have restricted too many criteria, there may be limited members available that meet all of your preferences.
If you're on a PC, categories with restrictions have an exclamation mark next to them (!). Within the "exclamation mark" category, you will identify it immediately by the warning message attached.
If you're on a mobile device, scroll down in order to see the categories with the warning message.
In this case, please consider expanding your search criteria in less important categories. Being strict with your criteria limits the number of matches you receive.
When you amend your search criteria, we will recalculate your partner suggestions. Please be patient while we find you new matches.