To add a photo to your profile, just log in to your account and select "Profile".
Click/tap on "Gallery". Here you will have the opportunity to upload up to 24 photos to your profile.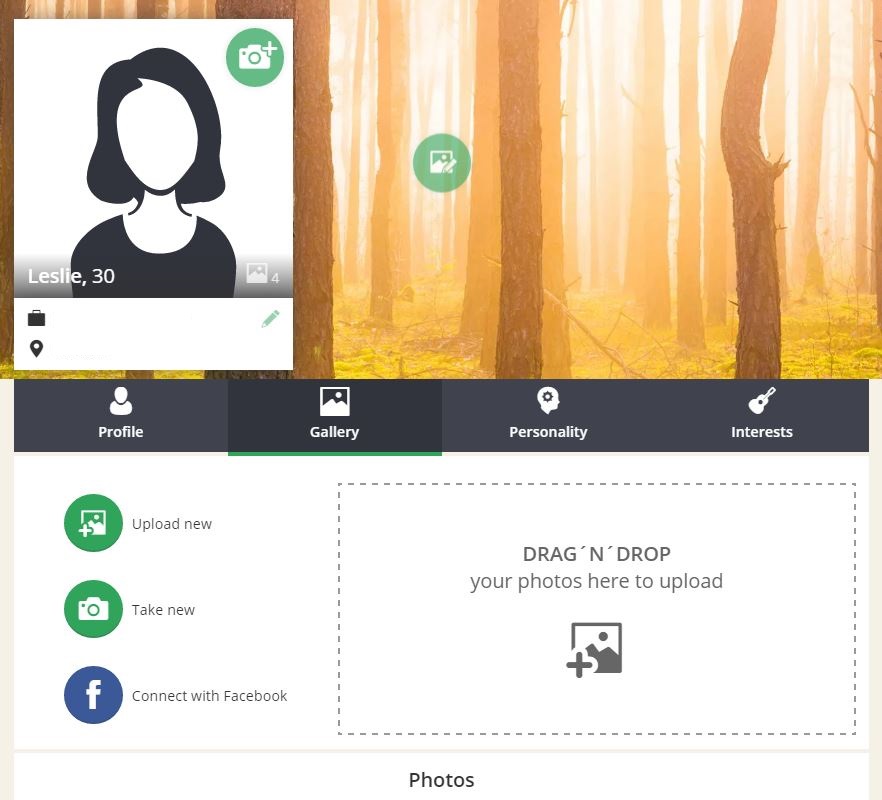 1) Adding photos from your computer or phone
Select "Upload new". A window will open allowing you to select a photo stored on your computer or phone. 
2) Adding photos from your mobile device
If you are using a mobile device or a web cam, tap "Take new". You can then upload it to your profile.
3) Uploading photos from your Facebook account
If you would like to add photos from your Facebook account, select "Connect with Facebook".
Facebook's login page will open in a new window. Once logged in, select "OK" to grant EliteSingles access to your Facebook profile photos. Now you can see all your photos and albums. Select the photos you wish to import and "Save".
If the upload was successful, you should see "In Review". We check all texts and pictures before they are visible on your profile. This procedure maintains safety and quality on our site, and may take up to 48 hours to complete.
When your profile has multiple photos, you can choose which one to use as your primary profile photo by selecting the green icon you see on the photo.
Please note, the icon will not appear if the photo has not been approved as a main profile photo. However, if the photo is accepted as a secondary photo, it will be visible to your matches in your gallery. By secondary photo, we are referring to those photos that feature you with another person, are taken from a distance, or feature a landscape or pet.
Only those photos on which only you are visible (for example, a close-up of your face) will be accepted as a main profile photo. Your currently selected main profile photo will be indicated by a black icon.